Giving Tree

Image © Zynga
Information
Requirement:
1. Holiday Town Square expansion
2. Complete goals
Size:
3x3
Bonus:
 +50-100% Payout
Area of Effect:
 3 square radius
The Giving Tree is a 3x3 decoration in CityVille during the Holiday Event (2011). It is part of the Holiday Town Expansion.
This item is valued at

 500,000 Coins.
It gives a 50% payout bonus to residences and businesses, and an additional 50% to certain Winter or Holiday themed items.
Completion
Edit
1. To unlock this a player first needs to expand onto the Holiday Town Square (location will vary).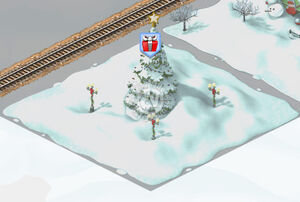 2. It is finished after completing a set of goals:


 Holiday Town! →
 Star Power! →

 Holiday Havoc! →

 On Pins and Needles
3. Then the decoration may be moved.
Ad blocker interference detected!
Wikia is a free-to-use site that makes money from advertising. We have a modified experience for viewers using ad blockers

Wikia is not accessible if you've made further modifications. Remove the custom ad blocker rule(s) and the page will load as expected.