The Haunted Beacon is a 4x4 upgradeable Halloween residence in CityVille.
This is available for free when placed during the

 Welcome To The Seaside! Goal and takes

 7 Energy to build. It requires 5 different materials to finish. Once built it increases the city's population by

 1,000 Population. Upgrading this to Level 2 and 3 requires an additional 6 and 7 of the same materials, respectively. Rent can be collected every 24 hours.
This must be placed on land near water.
|style="background: #3CA3D6; border-color: #5F809C; border-color: #5F809C; border-collapse: collapse; text-align:center"| Level 1|| colspan="5" style="background: #3CA3D6; border-color: #5F809C; border-color: #5F809C; border-collapse: collapse; text-align:center"| Building Materials |- |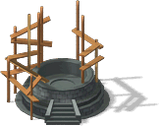 |


5x Ice Mermaid Statue |


5x Wooden Mermaid Statue |

5x Golden Mermaid Statue |


5x Silver Mermaid Statue |

5x Bronze Mermaid Statue |- ! Stats | colspan=5 | Population:

 1,000-1,960 Population
Rent:

 323 Coins |}
|style="background: #3CA3D6; border-color: #5F809C; border-color: #5F809C; border-collapse: collapse; text-align:center"| Level 2|| colspan="5" style="background: #3CA3D6; border-color: #5F809C; border-color: #5F809C; border-collapse: collapse; text-align:center"| Building Materials |- |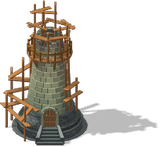 |


6x Ice Mermaid Statue |


6x Wooden Mermaid Statue |

6x Golden Mermaid Statue |


6x Silver Mermaid Statue |

6x Bronze Mermaid Statue |- ! Stats | colspan=5 | Population:

 1,960-3,850 Population
Rent:

 326 Coins |}
|style="background: #3CA3D6; border-color: #5F809C; border-color: #5F809C; border-collapse: collapse; text-align:center"| Level 3|| colspan="5" style="background: #3CA3D6; border-color: #5F809C; border-color: #5F809C; border-collapse: collapse; text-align:center"| Building Materials |- |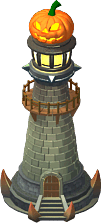 |


7x Ice Mermaid Statue |


7x Wooden Mermaid Statue |

7x Golden Mermaid Statue |


7x Silver Mermaid Statue |

7x Bronze Mermaid Statue |- ! Stats | colspan=5 | Population:

 3,850-7,000 Population
Rent:

 625 Coins |}
Possible Item Drops
Edit
Collecting Bonuses
Edit
| Chance | Reward |
| --- | --- |
| 85% |  1 XP |
| 15% |  2 XP |
| Direction SW | Direction SE |
| --- | --- |
| | |
| Direction SW | Direction SE |
| --- | --- |
| | |
| Direction SW | Direction SE |
| --- | --- |
| | |