Happy New Year!

Image © Zynga
Goal Information
Requirements
 Level 50
Release Date
December 31, 2011
Description
I can't wait for the big party! While Max decorates the museum, I'm going to go find us some party hats!
Mission from
Sam
Tasks
Complete the New Year's Museum Party
( 50 Cash)
Ask Friends for 12 Sparklers
( 36 Cash)
Gather 40 New Year's Hats
( 200 Cash)
Rewards
Energy
 20 Energy
Goal Completion
Description
I still need a party dress! Hopefully, Louise can do me a favor and let me borrow one of hers!
Questline

Happy New Year! is a goal in CityVille. It was released on December 31, 2011. This questline will be removed on January 14, 2012.
Sam says: "I can't believe 2011 is already over! Well, let's party one last time and ring in 2012, everybody!"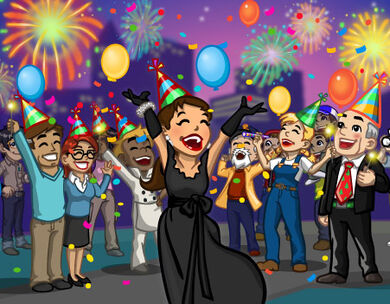 Task 3: Collecting from housing gives a 100% chance of dropping New Year's Hats.
City is ringing in the New Year in style!


Player partied like it was 1999 at the New Year's party. Which basically meant they annoyed everyone by talking about Y2K all night.
Ad blocker interference detected!
Wikia is a free-to-use site that makes money from advertising. We have a modified experience for viewers using ad blockers

Wikia is not accessible if you've made further modifications. Remove the custom ad blocker rule(s) and the page will load as expected.