Greenhouse For Crops!
Comments

30
8,555pages on
this wiki
Greenhouse For Crops!

Image © Zynga
Goal Information
Requirements
 Level 20
Release Date
December 19, 2011
Description
Let's give your city a greenhouse so you can save space and grow a lot of your crops in one place!
Mission from
Farmer Rita
Tasks
Ask for 20 Seed Packets
( 60 Cash)
Place Grass Roots Greenhouse
Harvest 20 Watermelon from a Greenhouse
( 40 Cash)
Rewards
Item
 Grain Elevator
Goal Completion
Description
I'm so glad to see that you're saving space and being environmentally friendly! Nice job!
Questline
Greenhouse For Crops! is a goal in CityVille.
Rita says: "Your city has ripened into such a beautiful place! But there almost isn't enough room for all your different crops!"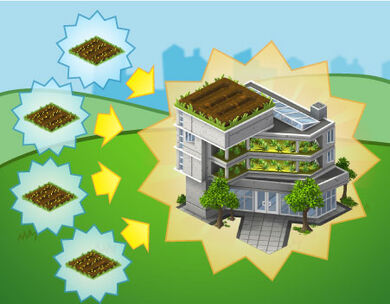 City is turning over a new leaf with its Greenhouse!


Player generously brought the new Greenhouse a house warming gift today. They wisely gave it a lifetime supply of glass cleaner.