---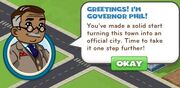 Governor Phil
is a non-playable
character
whom serves as the game's beginning guide. He is responsible for giving players various
goals
that help you progress throughout the game.
Governor Phil's story
Edit
Governor Phil makes sure the player stays within the law by advising them to place an official flag. He acts just like a real governor.
After completing the goal
Clownward Spiral
, Phil resigns to join the circus:
"I'm leaving politics behind and joining the circus. Good luck filling my very, very big shoes."
Captain Krunsch catches him in his clown costume and exposes him in a scandal (ClownGate). He proceeds to kick him out of office to takeover the position of Governor himself.
See also: Goals Given by Phil
Ad blocker interference detected!
Wikia is a free-to-use site that makes money from advertising. We have a modified experience for viewers using ad blockers

Wikia is not accessible if you've made further modifications. Remove the custom ad blocker rule(s) and the page will load as expected.