Government Center!

Image © Zynga
Goal Information
Requirements
 Level 32
Release Date
January 8, 2012
Description
Your citizens are really going to appreciate this! It will save your city some space!
Mission from
Sam
Tasks
Place Government Center
Upgrade the Government Center to Level 7
Collect from any City Hall 3 times in your city
( 50 Cash)
Rewards
Energy
 15 Energy
Goal Completion
Description
Let's be honest. This Government Center is good but it could be great! Let's take it to the next level!
Government Center! is one of the timed goals in CityVille.
Sam says: "Your city has a lot of community buildings! Let's give it a Government Center to hold them for you!"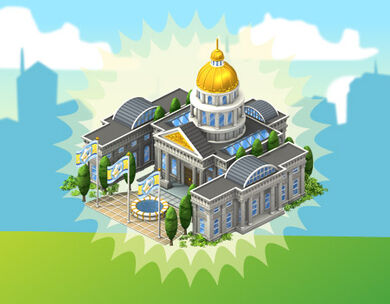 (completed within 20 Days, by January 28, 2012)
If the goal is not completed by the time the event ends, no reward will be given.
City is becoming the center of attention with its new Government Center!


Player showed everyone at the Government Center that they have quite the center of balance after they successfully walked across the waxed floors without falling.
Ad blocker interference detected!
Wikia is a free-to-use site that makes money from advertising. We have a modified experience for viewers using ad blockers

Wikia is not accessible if you've made further modifications. Remove the custom ad blocker rule(s) and the page will load as expected.