The Gorilla Towers is a 5x5 limited time housing item in CityVille. It was released as a part of the Tiki Takeover! Event (2011).
It costs

 94 Cash to buy and takes

 8 Energy to build. Once built, it increases your city by
 3,000 Population. Rent can be collected every hour and earns

 451 Coins.
Rent was originally collected every 3.1 days. This item was re-released on September 14th, 2011 for

 104 Cash. The has since dropped to its current price.
This housing item is part of the Buy 2, Get 1 Free Special Offers.
During the
 Birthday Sale, this item cost

 84 Cash (20% off).
Possible Item Drops
Edit
CollectingBonuses
Edit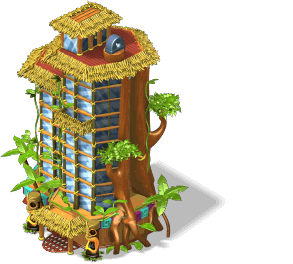 | Chance | Reward |
| --- | --- |
| 85% |  1 XP |
| 15% |  2 XP |
Ad blocker interference detected!
Wikia is a free-to-use site that makes money from advertising. We have a modified experience for viewers using ad blockers

Wikia is not accessible if you've made further modifications. Remove the custom ad blocker rule(s) and the page will load as expected.