Get Off My Bumper!
Comments

0
8,527pages on
this wiki
Get Off My Bumper!

Image © Zynga
Goal Information
Requirements
 Level 10
Release Date
July, 27 2012
Description
These drivers really like to show the world what causes they support with Bumper Stickers! Let's find some!
Mission from
Sam
Tasks
Ask friends for 35 Bumper Stickers
Build the Solargo
Collect 12x from Level 2 Solar Mall
Rewards
XP
 100 XP
Energy
 10 Energy
Goal Completion
Description
The carpool is really heating up thanks to the success of the solar powered Solargo! I might get one, too!
Questline
Get Off My Bumper! is a goal in CityVille and the second goal for Get More Cars!
Sam says: "Your environmentally conscious citizens need a carpool system in place as well. How bout the solar powered Solargo?!"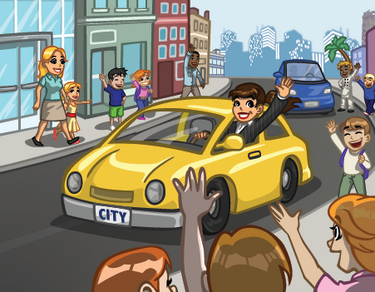 City is jumping into the Carpool lane!


Player bought a new car that runs on solar power. They just wished that the payments weren't so astronomical. Get it? Sun? Astronomical?! Never mind.