Frozen Lake

Image © Zynga
Information
Reward for:
 The Mighty Pucks
Size:
4x4
Bonus:
 +27% Payout
Area of Effect:
 3 square radius
The Frozen Lake is a 4x4 sized decoration in CityVille. It is a reward for completing

 The Mighty Pucks timed goal with the

Gold Trophy. It gives a 27% payout bonus to residences and businesses.
It has the same size and appearance as the Frozen Pond but differ in the payout bonus.
This item is valued at

 135,000 Coins. Removing it will return it to your inventory.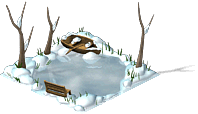 Ad blocker interference detected!
Wikia is a free-to-use site that makes money from advertising. We have a modified experience for viewers using ad blockers

Wikia is not accessible if you've made further modifications. Remove the custom ad blocker rule(s) and the page will load as expected.