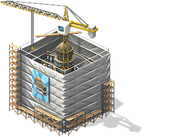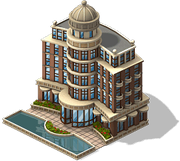 The French Riviera Casino is a Hotel released on September 23, 2011 in CityVille. You can receive and place it from the

 French Riviera Casino! Goal. Supplying it consumes 500 goods. Collecting from it earns 2,500 coins which gives it an efficiency of 5 coins per good. It is the third building required to unlock the Eiffel Tower Wonder.
This hotel is most similar to the

 Tonga Tower. When friends visit, rather than helping you fill up the hotel quicker with bonus guests, the more friends that check-in the higher the payout bonus when you collect rent. You can earn up to 3x the payout if you can get 15 friends to check-in. There is also no circle of influence.
You can invite your friends even after the Casino is ready to be collected. Just click on the VIP icon above the building.
Like regular businesses, citizens of your city will fill up the hotel casino as customers. Hotel decorations do not affect the French Riviera Casino, only regular decorations.
This item resembles the Bellagio on the Las Vegas Strip in Nevada, USA.
ConstructionEdit
MaterialsEdit

 180 Cash to buy all
Upgrade French BusinessEdit
Upgrade one French Business (French Restaurant, French Cafe or Cheese Market) to Level 2
Requires 150 Supplies (Level 0→2)
Tip: French Restaurant requires the least goods
Note: You may need to refresh (exit and re-enter) game session after upgrading.

 80 Cash to skip
Master French CropEdit
Master one French Crop (Sun Flowers, Mushrooms or Cabernet Sauvignon Grapes) to Level 2
Requires 150 Harvests (Level 0→2)
Tip: Sun Flowers takes the quickest time to grow (15 hours vs 18 hours or 1 day)

 120 Cash to skip
Rewards on CollectingEdit
| Chance | Reward |
| --- | --- |
| 100% |  2500 Coins |
| Chance | Reward |
| --- | --- |
| 85% |  1 XP |
| 15% |  2 XP |
VIP Table Rewards
Edit
Table 2 Rewards
Edit
Invite Feed
Edit
French Riviera Casino is ready for customers in Player's city!


Go to the casino now! You can then upgrade to receive complimentary gift baskets full of rewards.
Ad blocker interference detected!
Wikia is a free-to-use site that makes money from advertising. We have a modified experience for viewers using ad blockers

Wikia is not accessible if you've made further modifications. Remove the custom ad blocker rule(s) and the page will load as expected.