The Fenghuang Pagoda is a 4x4 China and International residence in CityVille. It was released during the Lunar New Year (2012) and Chinese New Year (2013) Events.
It costs

 50 Cash to buy and takes

 8 Energy to build. Once built, it increases the city's population by
 3,000 Population. Rent can be collected every 8 hours and earns

 390 Coins.
When initially released, this was only available for 24 hours at a varing price of

 30, 40, 50, 60, 70 or 90 Cash despite the ingame Announcement stating it was available for 3 days. This was made available again during the second event at it's current fixed price, and is still available.
This may be inspired by the Fenghuang Pagoda in Chaozhou, Guangdong Province, China.
This Residence can be stored in the following Neighborhoods:

Possible Item Drops
Edit
Collecting Bonuses
Edit
| Chance | Reward |
| --- | --- |
| 85% |  1 XP |
| 15% |  2 XP |
All Directions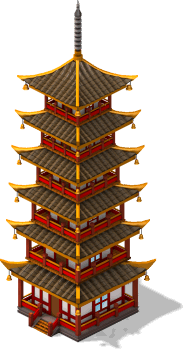 Ad blocker interference detected!
Wikia is a free-to-use site that makes money from advertising. We have a modified experience for viewers using ad blockers

Wikia is not accessible if you've made further modifications. Remove the custom ad blocker rule(s) and the page will load as expected.