The Farmer Rita may refer to:
NPC Character
Edit
---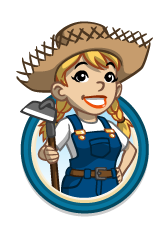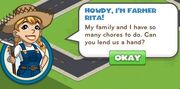 Rita is a non-playable character who provides players with goals in CityVille. The theme of the missions she provides generally relates to farming and crops.
Rita's story
Edit
Rita lives in the Country Home (Rita's Country Home) behind the Red Barn. She and her family are very busy with chores and appreciate help. She introduces players to farming and warns them to harvest crops before they wither, as they are a source of goods. When the player finds a lost bunny in their farm, she encourages them to find it a new home, thus also introducing them to decorations.
A while later, Rita returns and asks the player to build a flower garden for her. She has specific requirements for the garden, but is very pleased with the end result. She says, "It's exactly what I was lookin' for!"
Rita has an accent which means she doesn't often pronounce her "g"s, for example: hoppin' and farmin'.
US Decoration
Edit
Farmer Rita

Image © Zynga
Information
Cost:
 30,000 Coins
Size:
2x1
Bonus:
 +11-22% Payout
Area of Effect:
 3 square radius
The Farmer Rita is a 2x1 US decoration available in CityVille. It was released during the USA Event (2012).
It costs

 30,000 Coins to buy and gives an 11% payout boost to both businesses and housing. It also gives an additional 11% payout boost to US businesses and residences.
This has a monetary value of

 375,000 Coins.
Ad blocker interference detected!
Wikia is a free-to-use site that makes money from advertising. We have a modified experience for viewers using ad blockers

Wikia is not accessible if you've made further modifications. Remove the custom ad blocker rule(s) and the page will load as expected.