Farmer Charmer

Image © Zynga
Goal Information
Requirements
 Level 50
Release Date
September 8, 2011
Description
Farmers put food on your table. And some of those tables are really far away!
Mission from
Farmer Rita
Tasks
Ask for 12 Fruit Cartons
( 60 Cash)
Collect from 4 Cruise Ships
( 20 Cash)
Collect from Produce Paradise 10 times
( 20 Cash)
Rewards
Item
 Mega Silo
Goal Completion
Description
You're proving to be quite the salesman! And I'm about sold on you! You sure as heck have my vote!
Goods Share
 50 Goods
Questline

Farmer Charmer is a Downtown, Lakefront, Alps, and normal City goal in CityVille. It is the third goal of Act 1: Part 1 of the
 Run For Governor Saga.
Farmer Rita says: "Now that my crops are safe from them pesky locusts, let's sell 'em! Gotta make a livin'!"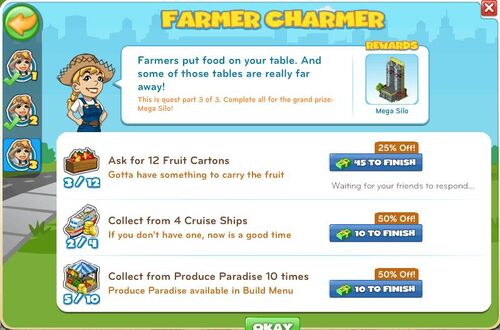 City is filled with pride about its new Mega Silo!


Player is excited about their new job at the Mega Silo. Apparently, they will soon be working as the grain elevator attendant.
Ad blocker interference detected!
Wikia is a free-to-use site that makes money from advertising. We have a modified experience for viewers using ad blockers

Wikia is not accessible if you've made further modifications. Remove the custom ad blocker rule(s) and the page will load as expected.