Farmer's Market
Comments

30
8,553pages on
this wiki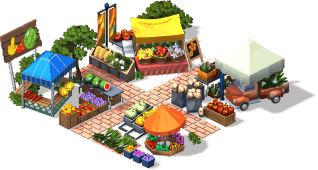 For the business with the same name, see Farmer's Market
The Farmer's Market both allows growing of Premium Goods and creates a bonus effect around itself when it's open. The bonuses range from 50 to 75 to 100% as the Market is upgraded. It is 7x7 in size.
Higher levels also open up 3 new Crop types: Heirloom Tomatoes, Organic Squash and Cantaloupes. Special crops produce Premium Goods, but only if they are started within the 12 hours it stays open. Crops in Greenhouses do not count. You must have the Market in the same city that you plant the crops.
Level 30 is required to begin, starting with the goal

 Corner The Market!
Removal sends the Market to your inventory.
Re-Opening
After 12 hours items must be collected to re-open the Market. These are: Food Scoops, Fruit Baskets and Pickle Jars. The first two come from asking neighbors. The Pickle Jars can only be found randomly when collecting from certain crops. These are: Any of the 3 new crops, plus Carrots, Strawberries or Brussel Sprouts. (Hint: Collecting enough Pickle Jars from the new crops - while the timer is going - will save time and energy.)
Click the yellow button symbol above the Market to start begin the 12 hours. If you're short on items, it will let you know. A seed packet symbol means the timer is running. Click the green arrow symbol if you'd like to upgrade the Market.
Upgrading
Edit
Click the tent with the green arrow above it to upgrade to the next level.
Rewards:50% bonus to nearby Businesses, Heirloom Tomatoes available

Requires: 20 Honey Pots, Opening the Market 3x, Mastering Heirloom Tomatoes to Level 1
Rewards:75% bonus to nearby Businesses, Organic Squash available

Requires: 20 Butter Churns, Opening the Market 9x, Mastering Organic Squash to Level 1
Rewards:100% bonus to nearby Businesses, Cantaloupe available