The Family Townhouse is a 4x4 sized Housing item available in CityVille. It was based on The Simpsons cartoon home, and is called that in the coding.
It costs

 400 Coins and takes

 2 Energy to build. Once built, it increases your city's population by
 20 Population. Rent can be collected every 4 hours and earns

 100 Coins. When collecting rent, this building has a chance to give collectibles towards the Suburbia Collection.
This Family Residence can be stored in the following Neighborhoods: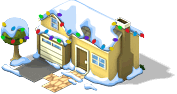 Cost and Efficiency
Edit
The Family Townhouse is one of four residences that you can collect from every four hours. Compared to the other three residences that collect every four hours (the Skyscraper Condos, Courtyard House and Bay Point Duplex) the Family Townhouse has the lowest population density and produces the fewest coins. But it is the cheapest of the four, and produces the highest earnings per resident of the four as well.
The Family Townhouse will requiere 4 collections before it starts profiting. (16 hours minimum)
Collecting Rewards
Edit
| Chance | Reward |
| --- | --- |
| 85% |  1 XP |
| 15% |  2 XP |
| Direction NW | Direction NE | Direction SW | Direction SE |
| --- | --- | --- | --- |
| | | | |
Remodeling
Edit
For more information: Remodeling
Ad blocker interference detected!
Wikia is a free-to-use site that makes money from advertising. We have a modified experience for viewers using ad blockers

Wikia is not accessible if you've made further modifications. Remove the custom ad blocker rule(s) and the page will load as expected.