Expand Franchise

Image © Zynga
Goal Information
Requirements
 Level 1
Release Date
December 2, 2010
Description
Get off the ground floor!
Hints
Expand your franchise to 2 or more cities. You'll add an HQ floor for each one!
Mission from
Edgar
Tasks
Expand franchise to two locations
( 24 Cash)
Rewards
XP
 8 XP
Goal Completion
Description
Talk about vertical success! You've added floors to your HQ. Tell your friends!
XP Share
 1 XP
Questline

Expand Franchise is a Downtown, Lakefront, Alps, and normal City goal in CityVille.
Player has floored the business tycoon Edgar in Cityville!


Player has followed a "tall order" and raised the bar on their headquarters. Click below to expand your franchise and HQ!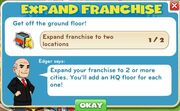 Ad blocker interference detected!
Wikia is a free-to-use site that makes money from advertising. We have a modified experience for viewers using ad blockers

Wikia is not accessible if you've made further modifications. Remove the custom ad blocker rule(s) and the page will load as expected.