The European Neighborhood is a section of the European District that can hold up to 12 European-themed houses. Upgrading this to level 2 is a requirement for completing the
 A Darling Idea! Goal. The other two sections are the European Civic Center and European Mall.
Houses to be stored
Edit
Some of the houses that can be stored inside are:
Collecting Bonuses
Edit
| Chance | Reward |
| --- | --- |
| 85% |  1 XP |
| 15% |  2 XP |
All Directions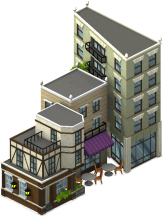 Ad blocker interference detected!
Wikia is a free-to-use site that makes money from advertising. We have a modified experience for viewers using ad blockers

Wikia is not accessible if you've made further modifications. Remove the custom ad blocker rule(s) and the page will load as expected.