---
Equality Acres

Image © Zynga
Information
Requirements:
 With Open Arms!
Size:
8x8
Construction:
 8 Energy
Block 1
Materials:
5x Chimney


 5× Garden Planter
 5x Garage Control
 5x Small Window


 5× Elegant Window
Initial Capacity:
2
Staff
Requirements:
 3 Staff Members
or  5 Cash each
Upgraded Cap.:
5
Housing Bonus:
+5%
Block 2
Materials:
7x Chimney


 7× Garden Planter
 7x Garage Control
 7x Small Window


 7× Elegant Window
Initial Capacity:
6
Staff
Requirements:
 4 Staff Members
or  5 Cash each
Upgraded Cap.:
10
Housing Bonus:
+10%
Block 3
Materials:
9x Chimney


 9× Garden Planter
 9x Garage Control
 9x Small Window


 9× Elegant Window
Initial Capacity:
10
Staff
Requirements:
 5 Staff Members
or  5 Cash each
Upgraded Cap.:
15
Housing Bonus:
+15%
The Equality Acres is an 8x8 neighborhood in CityVille. It can be placed from the
 With Open Arms! goal. It is the first neighborhood released that can store "all types of housing".
That said... It does not accept Modern / Custom Houses, or Skyscrapers. (Click on the Skyscrapers link to see the only few buildings the game includes in that category.)
Currently only one Equality Acres building can be owned. Removing this item will send it to your inventory.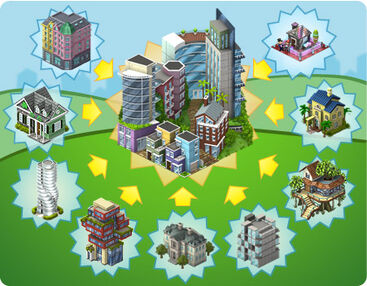 Upgrades
Edit
Equality Acres

Block 1
Block 2
Block 3
Required Staff:
2 free (staffed by Sam)
 3 Staff Members
1 free (staffed by Sam)
 4 Staff Members
 5 Staff Members
Total Capacity:
5 Houses
10 Houses
15 Houses
Rent Bonus:
5%
10%
15%