Dock Star

Image © Zynga
Goal Information
Requirements
 Level 20
Release Date
November 10, 2011
Description
I know more about business than I lead on! I'm gonna steer this harbor toward a profit, just you wait!
Mission from
Captain Rusty
Tasks
Have a Level 2 Pier
( 50 Cash)
Unload from a Boat 10 Times
( 50 Cash)
Unload from a Freighter Once
( 10 Cash)
Rewards
Item
Harbor Master's Office
Goal Completion
Description
This dock area needs a spit shine. Let's start with the pier! Grab a mop and start swabbin'!
Questline

Dock Star is a goal in CityVille. It was released on November 10, 2011.
Rusty says: "I've been promoted to Harbor Master! Now that I'm in charge, you either shape up or ship out!"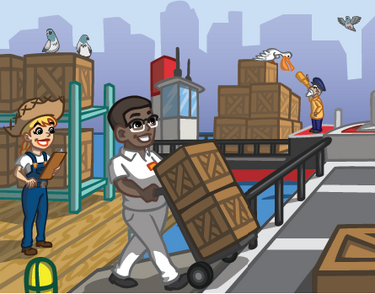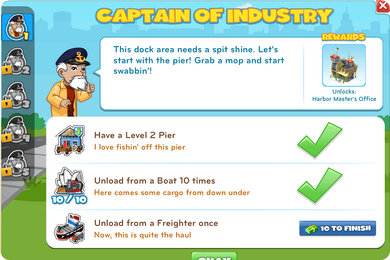 Ad blocker interference detected!
Wikia is a free-to-use site that makes money from advertising. We have a modified experience for viewers using ad blockers

Wikia is not accessible if you've made further modifications. Remove the custom ad blocker rule(s) and the page will load as expected.