Detour Guide

Image © Zynga
Goal Information
Description
This is the best meal I've ever eaten! But it's nothing compared to your home cooked meals, honey. Honey?!
Tasks
Have 1 Giant Rubber Band Ball in your city
( 5 Cash)
Collect 5 times from any Diner
( 40 Cash)
Send 5 Tour Buses to neighbor Burger Joints
( 40 Cash)
Rewards
Goods
 400 Goods
Questline

This Goal Has Been Removed as of October 22, 2011.
Detour Guide is goal available in CityVille.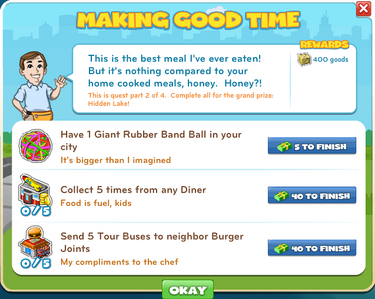 City is loading up the car for a family vacation!


Player is excited to ride shotgun even though they've never understood what that phrase actually means.
Ad blocker interference detected!
Wikia is a free-to-use site that makes money from advertising. We have a modified experience for viewers using ad blockers

Wikia is not accessible if you've made further modifications. Remove the custom ad blocker rule(s) and the page will load as expected.