The Daily Bonus system cycles every 5 days, but one must log into CityVille and collect it 5 consecutive days to have a chance to win a special prize on the Day 5. If one day is missed, the "clock" will reset on the system and you will start once again from Day 1.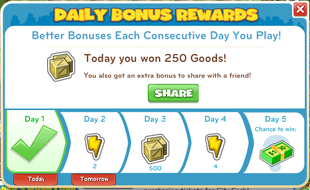 Each consecutive day that you click on the Daily Bonus, you will receive different rewards:

On Day 5, you will receive

 5 Energy or a chance of getting the

 1 Cash, Grain Silo, Fencing School, Spanish Castle, Weeping Cherry Tree or Flying Fairy. The "clock" will reset once again and repeat the cycle with another random bonus on the 5th day.
You can also share your bonus energy with your friends by posting it in the feed.
Player shares the wealth in CityVille!


Returning to their city, Player discovered a huge bonus waiting and would love nothing more than to share with friends!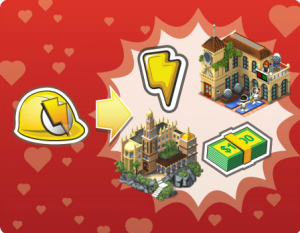 Ad blocker interference detected!
Wikia is a free-to-use site that makes money from advertising. We have a modified experience for viewers using ad blockers

Wikia is not accessible if you've made further modifications. Remove the custom ad blocker rule(s) and the page will load as expected.