Creating A Buzz

Image © Zynga
Goal Information
Requirements
 Level 50
Release Date
September 8, 2011
Description
A real leader knows how to handle all kinds of challenges. Well, it's yer time to shine!
Mission from
Farmer Rita
Tasks
Ask friends for 8 Organic Locust Spray
( 40 Cash)
Harvest 60 new Locust resistant Blackberries
( 90 Cash)
Harvest 25 Neighbor Crops
( 90 Cash)
Rewards
Coins
 3,000 Coins
Goal Completion
Description
I think I may need to spread the word to all my farmer friends about you! You're right at home on the farm!
Goods Share
 50 Goods
Questline

Creating A Buzz is a Downtown, Lakefront, Alps, and normal City goal in CityVille. It is the second goal of Act 1: Part 1 of the
 Run For Governor Saga.
Farmer Rita says: "Oh no! A big ol' swarm of locusts is headed toward the farm! I told ya we gotta be ready for anything!"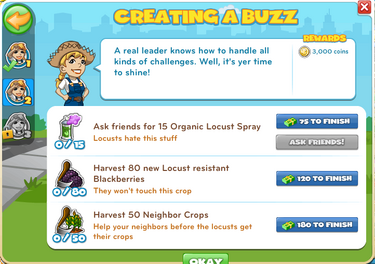 City is gearing up for the Governor's Race!


Player has their sights set on the Governor's Mansion. They've luckily found a good spot in the bushes where no one has seen them yet.
Ad blocker interference detected!
Wikia is a free-to-use site that makes money from advertising. We have a modified experience for viewers using ad blockers

Wikia is not accessible if you've made further modifications. Remove the custom ad blocker rule(s) and the page will load as expected.