Country Home
Comment

1
8,512pages on
this wiki
The Country Home is a 4×4 housing item available to be built in CityVille. It unlocks when the player reaches

 Level 3.
It costs

 600 Coins and takes

 2 Energy to build. Once built, it increases your city's population by

 30 Population. Rent can be collected every 5 minutes and earns

 10 Coins. When collecting rent, this building has a chance to give collectibles towards the Peaceful Living Collection.
This Family Residence can be stored in the following Neighborhoods:
The Country Home is technically the sixth most profitable housing building in the game, after Aloha Hut, Dream Beach Home, Newlywed House, Valencia Flat, and Spring Shingle.
Despite its high income, it is generally preferred to use other sources of revenue, as this involves using all energy gained from the five-minute replenishment and many people feel this isn't an efficient way of using energy as it means they can only collect from one Country home and also prevents them from being able to collect any crops or businesses.
It shares the same model and profit as Rita's Country Home, the only housing unit which is present in the city before you start playing. It can be found behind the pre-built Red Barn, in the top right corner.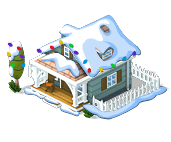 Goals requiring Country Home
Edit
Build Paul A Home!Edit
See also: Build Paul A Home!
In this goal, the player has to build and place one Country Home for Paul and his family to live in. They also need to place 5 City Fences. The reward is 100 coins.
Collecting Rewards
Edit
| Chance | Reward |
| --- | --- |
| 85% |  1 XP |
| 15% |  2 XP |
| Direction SW | Direction SE | Direction NE | Direction NW |
| --- | --- | --- | --- |
| | | | |
Remodeling
Edit
For more information: Remodeling
Note: Rita's Country Home cannot be remodeled.