The Community Pool is a 4x4 sized community building available in CityVille. Though supporting more population, the Community Pool actually costs less than the Observatory or Modern Art Gallery.
Collecting from this has a possibility of dropping
 50-200 Exercise Points.
It can be upgraded. There are Community Pool level 2 and Community Pool level 3.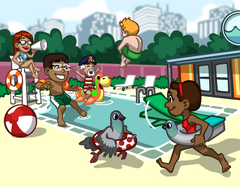 Harvesting Bonuses
Edit
| Chance | Reward |
| --- | --- |
| 100% | 5× 50 Coins |
| Chance | Reward |
| --- | --- |
| 50% |  1 XP |
| 50% |  2 XP |