This Community building has been removed as of January 31, 2013.

The City Center is a 8x8 Municipal building in CityVille. It was released on November 21, 2011 to celebrate CityVille's First Birthday (December 2, 2011). Player have until January 31, 2013 to complete the building.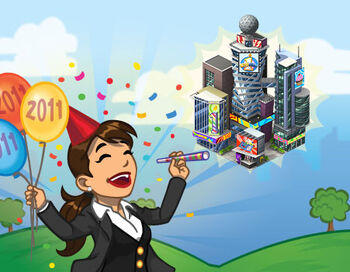 It is available for free when placed during the

 Celebrate CityVille's Birthday! Goal and takes

 0 Energy to build. Upgrading this requires three different materials to be collected for each level, with the amount of each item increasing and changing for each level. For each level completed, players will be allowed to store at least one additional Community building in it, with Level 7 holding up to 12 Community buildings. The building itself will also increase your population cap. It does not hold Landmarks.
Players can store Community buildings once they've upgraded to level 7 (and activated the bonus) or when the event is over.
To activate the bonus, click on the City Center once it is completed. Upgradeable Community Buildings can still be upgraded when in the City Center.
It will act like a wonder by giving citywide bonuses to:
The bonus effect will run for 3 minutes and cost

 10 Cash to add 30 seconds to the timer and get

 10 Energy.
You can only run the bonus timer once.
Note:
The City Center will not hold the City Hall, Post Office, or Clerk's Office.
If the City Center is not upgraded to level 7 by the end of the event, after activating the bonus the City Center can be filled with hired friends or Samantha to store upto 12 Community Buildings. Where the cost of hiring Samantha is

 5 Cash/spot.
Upgrading Using Materials
Edit
Level
Building Materials
Total Storage Cap
Population Cap
Profit
Citywide Bonus

Level 1
None
2 Community Buildings
 2,500 Population
 500 Coins
50%

Level 2

4x Noisemaker

4x Popper

4x Champagne
3 Community Buildings
 3,000 Population
 600 Coins
100%

Level 3

5x Banner

5x Streamers

5x Balloons
4 Community Buildings
 4,000 Population
 800 Coins
200%

Level 4

5x Games

5x Party Favors

5x Pinata
6 Community Buildings
 5,500 Population
 1,100 Coins
300%

Level 5

6x Birthday Hat

6x Cards

6x Presents
7 Community Buildings
 7,000 Population
 1,400 Coins
400%

Level 6

8x Ice Cream

8x Cupcakes

8x Milk
8 Community Buildings
 8,500 Population
 1,700 Coins
600%

Level 7

15x Candles

15× Frosting

15× Cake Layers
12 Community Buildings
 10,000 Population
 2,000 Coins
900%
Upgrading Using Cash
Edit
Level 2:

 48 Cash
Level 3:

 60 Cash
Level 4:

 60 Cash
Level 5:

 72 Cash
Level 6:

 96 Cash
Level 7:

 180 Cash
Raise your hand if you're mad that after days of begging for the items and have finally completed the building....they are now Give 1, Get 1.
Ad blocker interference detected!
Wikia is a free-to-use site that makes money from advertising. We have a modified experience for viewers using ad blockers

Wikia is not accessible if you've made further modifications. Remove the custom ad blocker rule(s) and the page will load as expected.