The Cirrus Tower is a 4x4 limited edition business in CityVille. It was released during the Metropolis 4 Event.
It costs

 5,250,000 Coins to buy and

 8 Energy to build. Supplying it consumes

 405 Goods. Collecting rent from it earns

 3,025 Coins.
The
 Cirrus Tower has an efficiency of 7.47 coins per good. This makes it the most efficient coin-bought business in the game, at purchase. Breaking even on the cost will take 1752 collections, without decoration modifiers. It is also the tallest building overall.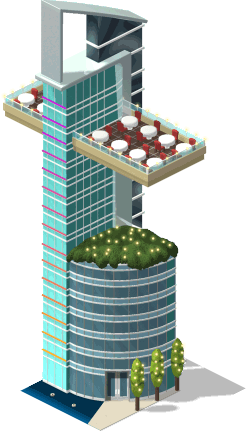 Ad blocker interference detected!
Wikia is a free-to-use site that makes money from advertising. We have a modified experience for viewers using ad blockers

Wikia is not accessible if you've made further modifications. Remove the custom ad blocker rule(s) and the page will load as expected.