The Cinema is a 4x4 sized business available in CityVille. It unlocks when the player completes the goal

 Cinema Investment.
It costs

 100,000 Coins to buy and

 8 Energy to build. Supplying it consumes

 140 Goods. Collecting rent from it earns

 749 Coins and a chance for collectibles towards the Silver Screen Collection. Franchising this business costs

 80,000 Coins.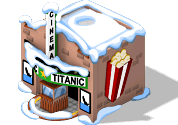 Cost and efficiency
Edit
The cinema is a very expensive business. It requires you to have completed the goal leading up to it - "

 Cinema Investment". It costs

 100,000 Coins to build. It has an efficiency of 5.35 coins per good. It requires

 140 Goods to stock, which is higher than most businesses. The high amount of goods it takes means that you will spend less energy collecting from the cinema than other businesses if you supply them with the same number of goods.
One of the advantages to the cinema is that it is one of the few 4x4 businesses available. Although it depends on how you choose to place decorations, the cinema can potentially receive a larger decoration bonus than 3x3 businesses since it has a larger area to receive bonuses from decorations. If you maximize your businesses earnings through decorations- the coins per good of the cinema become higher than any 3x3 business (including the sushi bar) and is second only to the Tower Eats.
Collection
Edit
Collecting from this business has a chance to drop items from the Silver Screen Collection. There is a 3% chance a collection item will drop when harvesting.
Ad blocker interference detected!
Wikia is a free-to-use site that makes money from advertising. We have a modified experience for viewers using ad blockers

Wikia is not accessible if you've made further modifications. Remove the custom ad blocker rule(s) and the page will load as expected.