Cinco De Mayo!

Image © Zynga
Goal Information
Release Date
May 4th, 2011
Description
Get your Cinco de Mayo party started!
Hints
It won't be a real Cinco de Mayo without a great atmosphere and food!
Mission from
Sam
Tasks
Have 1 Taqueria in your City
Ask for 3 Maracas
( 40 Cash)
Harvest 30 Corn
( 45 Cash)
Rewards
Item
Mariachi Band
Questline

This Goal Has Been Removed as of September 7, 2011.
Cinco De Mayo! is one of the Goals in CityVille. It was released during the Cinco de Mayo! Event (2011).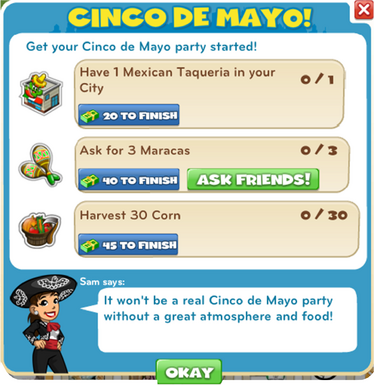 Ad blocker interference detected!
Wikia is a free-to-use site that makes money from advertising. We have a modified experience for viewers using ad blockers

Wikia is not accessible if you've made further modifications. Remove the custom ad blocker rule(s) and the page will load as expected.