This goal has been removed as of January 8, 2012.
Celebrate CityVille's Birthday!

Image © Zynga
Goal Information
Requirements
 Level 15
Release Date
November 21, 2011
Description
We're Celebrating CityVille's Birthday with a City Center to hold your Community Buildings! Place it today!
Mission from
Sam
Tasks
Place City Center
Upgrade City Center to level 7
Visit 30 Neighbors
( 150 Cash)
Rewards
Timed Reward
See left
Goal Completion
Description
Congrats! Now you can have your cake and eat it, too!
Celebrate CityVille's Birthday! is one of the timed goals in CityVille. It was released to celebrate CityVille's First Birthday.
Sam says: "It's finally time to celebrate CityVille's birthday!"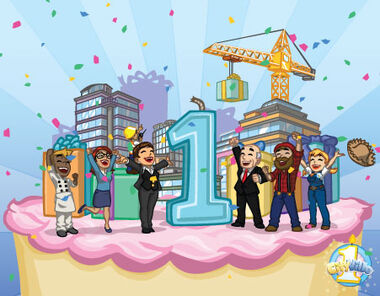 (completed by January 8, 2012)
If the goal is not completed by the time the event ends, no reward will be given.
City is celebrating CityVille's Birthday with their City Center!


Complete your City Center today to join in on the celebration! It holds up to 12 Community Buildings!
Ad blocker interference detected!
Wikia is a free-to-use site that makes money from advertising. We have a modified experience for viewers using ad blockers

Wikia is not accessible if you've made further modifications. Remove the custom ad blocker rule(s) and the page will load as expected.