Castle in the Snow

Image © Zynga
Goal Information
Requirements
 Level 30
Release Date
January 25, 2012
Description
Finish the Winter Castle before time runs out to get a premium version! The premium version is my perfect vision and has better stats!
Mission from
Frank The Architect
Tasks
Place and complete the Winter Castle
Collect from Ice Tower 3 times
( 55 Cash)
Collect from 20 Winter themed businesses
( 30 Cash)
Rewards
Coins
 20,000 Coins
Goal Completion
Description
The Winter Castle has turned your city into a Winter Wonderland! I've really outdone myself!

Castle in the Snow is a normal City goal in CityVille. While the Winter Castle must be fully built within 3 days to get the Premium version, the other goals in this quest are not being timed.
Frank says: "For years, I've been designing the perfect place to come in from the cold! Behold, the Winter Castle!"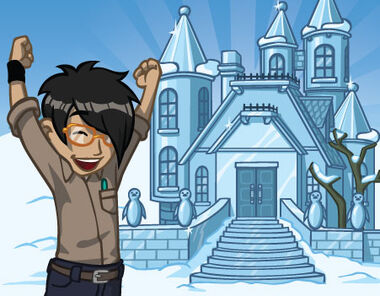 Task 3: For Winter themed businesses, see:
Winter Event (2011)* and Holiday Event (2011)
*all businesses listed except Nutcracker Shop, Theater Prop Shop, and Ski Resort.
City just got way cooler with its new Winter Castle!


Player likes their Winter Castle so much that they're thinking about also making it their Spring, Summer, and Fall Castle as well. Decisions, Decisions.
Ad blocker interference detected!
Wikia is a free-to-use site that makes money from advertising. We have a modified experience for viewers using ad blockers

Wikia is not accessible if you've made further modifications. Remove the custom ad blocker rule(s) and the page will load as expected.