Cargo Planes run routes from the Airport and trade coins for goods. All planes take

 2 Energy to unload.
Each time you send cargo planes out, you must choose a destination. Repeatedly collecting from the same route gives you mastery levels. Getting to 3 stars on a route will give you a reward item. Refer to the chart for route and reward information.
Neighbor's Cargo Planes can now be collected from, sped up, or 'unwithered' by clicking on the plane when a ramp or cargo is shown next to them. This started with a goal in

 That's the Ticket! You can also place Hearts on any plane or orange cone to ask for help.
According to Zynga's Board all planes may now be stored in the Warehouse.
| | | |
| --- | --- | --- |
| " | Based on players' experience as posted in this thread, neighbors now can help with both passenger and cargo planes, they can speed them up and harvest them, counting towards mastery and un-withering is under investigation but comments say it counts towards mastery | " |
Cargo Plane Types
Edit
Cargo Routes
Edit
Cargo Plane States
Edit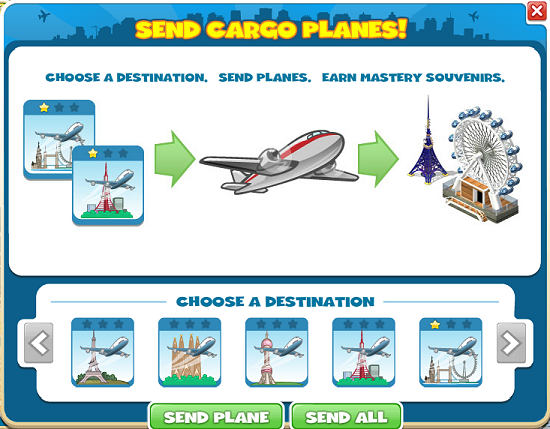 Ad blocker interference detected!
Wikia is a free-to-use site that makes money from advertising. We have a modified experience for viewers using ad blockers

Wikia is not accessible if you've made further modifications. Remove the custom ad blocker rule(s) and the page will load as expected.