Captain Krunsch in CityVille
Comments

25
8,488pages on
this wiki
---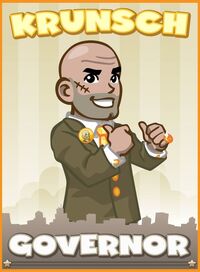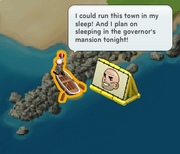 Captain Krunsch, is a character and one of the villains in the Zynga game called Empires & Allies. Since September 1, 2011, in a cross promotion between Zynga games, he has appeared on the rocks near the beaches of CityVille.
In Empires & Allies, he invaded the islands of Cape Pleasant. In that game, he was the first villain to appear and now has invaded CityVille in a rowboat with a megaphone, sending a message of defiance to the Governor:
"I could run this town in my sleep! And I plan on sleeping in the governor's mansion tonight!"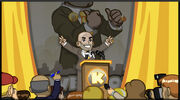 On September 8th, the Captain Krunsch's scheme to takeover the city was revealed. He snapped a photo of Governor Phil changing into his clown costume in the dressing room. Krunsch kicked Phil out of office with the ClownGate scandal and is now in the running for governor of CityVille. It is up to you to win over the voters, in the Run For Governor, and ultimately foil the plans of Krunsch!