Camera Shy

Image © Zynga
Goal Information
Description
Since I forgot to bring my trailer, I guess I'll check into a hotel and get some rest. I need my beauty sleep!
Mission from
Bella Bennett
Tasks
Ask for 4 Aloe Vera Bottles
( 30 Cash)
Collect from 40 Residences
( 60 Cash)
Check-In to any Friend's Hotel
( 10 Cash)
Rewards
Item
Pirate Ship
Questline

Camera Shy is a goal available in CityVille.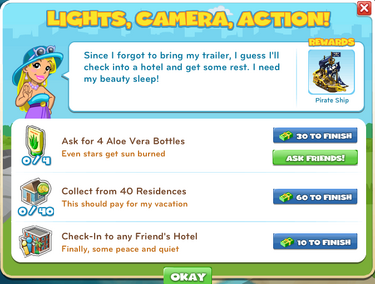 City is really treasuring its new Surf 'n Shop!


Player is convinced that the sunken ship used to belong to pirates. The pirates seem to think that it still belongs to them. It is unclear if the ghost pirates plan to... Wait! Ghost pirates?!
Ad blocker interference detected!
Wikia is a free-to-use site that makes money from advertising. We have a modified experience for viewers using ad blockers

Wikia is not accessible if you've made further modifications. Remove the custom ad blocker rule(s) and the page will load as expected.