Business Is Booming!
Comments

16
8,484pages on
this wiki
Business Is Booming!

Image © Zynga
Goal Information
Release Date
August 10, 2011
Description
Businesses are doing great that you're ready to open another mall in your City!
Hints
Click on your first mall to begin upgrading it!
Mission from
Sam
Tasks
Upgrade your current mall to level 3
Place 6 hearts in your City
( 12 Cash)
Click on 10 hearts in your friends Cities
( 30 Cash)
Rewards
Item
Level 1 Mall
Questline
Business Is Booming! is one of the goals in CityVille. You need to have completed your first mall and the

 New Mall! Questline before this goal will appear.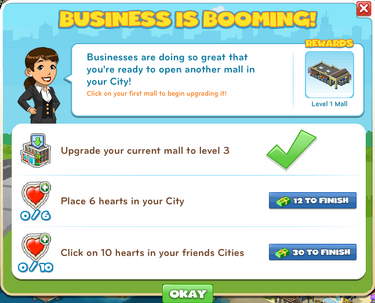 Big plans in store for City with a second Mall!


New City second Mall wows city planners! The space savings and giant coin payouts have Player laughing all the way to the bank.
Get City Coins.