The Buble Bonfire is a 5×5 sized business attraction in CityVille for the Bublé Holiday Event. It is available to place from the

 Have A Buble Holiday! Goal and takes

 8 Energy to build.
Removing it will send it back to your Inventory.
Materials
Edit
To finish the building, the following materials are required:
Collecting Bonuses
Edit
1. Collect
 3× Vinyl Records via wall posts (a player can only keep 3 at a time) or pay

 14 Cash to speed up maintenance.
OR
2. Wait for the timer countdown (4 hours) for repairs to complete.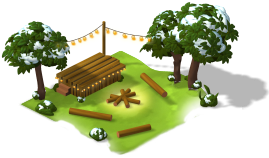 Ad blocker interference detected!
Wikia is a free-to-use site that makes money from advertising. We have a modified experience for viewers using ad blockers

Wikia is not accessible if you've made further modifications. Remove the custom ad blocker rule(s) and the page will load as expected.