Bublé Holiday (2011)

Image © Zynga
Information
Start Date
December 21, 2011
End Date
December 27, 2011

Events Timeline
Bublé Holiday is a Promotional Event in CityVille. During the event, a number of limited edition Michael Bublé themed items, collection and goals were released. This feature is available to players at

 Level 6+.
This event is used to promote his album, Christmas.
This event will end on December 27th, 2011.
Attraction
Edit
Decorations
Edit
Collection
Edit
Collecting from Buble Bonfire will drop collectibles toward the MB Collection.
Speech Bubble
Edit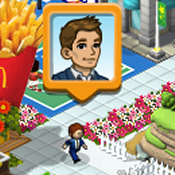 Michael Bublé will walk around your city during this event. Click on him and he may say the following,
Happy Holidays from Michael Buble! Complete the holiday bonfire for a special message.
Are you ready to throw a holiday party?
What are you bringing to the holiday bonfire?
Don't forget to LIKE my Facebook Fanpage.
Do you have a record for the party?
Listen to a preview of my new album "Christmas" on my YouTube channel to get into the holiday spirit!
Have a safe and Happy Holiday Season.
This is my favorite time of the year.
Let's Party!
Ad blocker interference detected!
Wikia is a free-to-use site that makes money from advertising. We have a modified experience for viewers using ad blockers

Wikia is not accessible if you've made further modifications. Remove the custom ad blocker rule(s) and the page will load as expected.