Bring in Tourists!
Comments

2
8,483pages on
this wiki
Bring in Tourists!

Image © Zynga
Goal Information
Requirements
 Level 20
Release Date
January 13, 2012
Description
More tourists means more business in your city! Tourists love to shop! They can't get enough of it!
Mission from
Dan
Tasks
Ask friends for 15 Passport Photos
( 30 Cash)
Unload Tourists from a Deluxe Cruiser 10 times
( 50 Cash)
Collect from 2 Hotels
( 60 Cash)
Rewards
Goods
 1500 Goods
Goal Completion
Description
With more ports, you can have more goods and tourists delivered to your city!
Questline
Bring in Tourists! is a goal in CityVille.
Dan says: "Now that you have more port space, more tourists can visit your city on cruise ships!"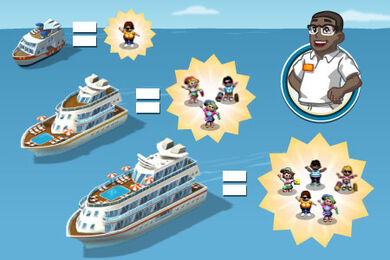 Task 3: Collect from any Hotel, Sailboat Hotel, or Haunted Hotel.
City is running a tight ship and upgrading their City Ports!


Player finally got their sea legs today. Apparently, they arrived in the mail with no assembly required.