This goal has been removed as of January 24, 2012.
Bring Home The Beacon!

Image © Zynga
Goal Information
Requirements
 Level 20
Release Date
December 7, 2011
Description
Safety First! Seafaring folk need guidance for nautical journeys around your city. Complete the goal quickly to earn a Lighthouse!
Mission from
Rusty
Tasks
Ask friends for 22 Lighthouse Reflectors
( 65 Cash)
Expand to the Lighthouse
Collect from Level 2 Aquarium 4 times
( 50 Cash)
Rewards
Goal Completion
Description
Seeing a landlubber have so much dedication to seafarers has made this ol' sea dog proud!
Bring Home The Beacon! is one of the timed goals in CityVille.
Rusty says: "Earn the Lighthouse to make your city a safe harbor so Rusty and his crew can make safe voyages!"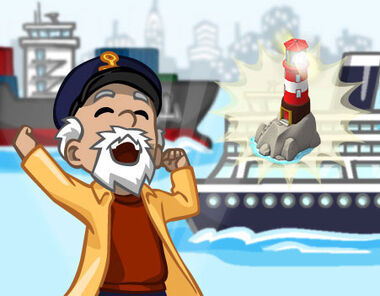 Task 3: Collecting from Level 2 Aquariums and Level 3 Aquariums will count toward progress of that task.
(completed within 120 hours)
(completed in 120-168 hours)
(completed in 168+ hours)
City is a sea haven!


Sailors all around are celebrating with Player for making City a safe harbor with a beautiful Lighthouse!
Ad blocker interference detected!
Wikia is a free-to-use site that makes money from advertising. We have a modified experience for viewers using ad blockers

Wikia is not accessible if you've made further modifications. Remove the custom ad blocker rule(s) and the page will load as expected.