Branching Out

Image © Zynga
Goal Information
Requirements
 Level 40
Release Date
December 12, 2011
Description
I don't know why but I've always been lucky to find the perfect tree each year! I hope the streak continues!
Mission from
Paul
Tasks
Ask for 18 Puffy Jackets
( 54 Cash)
Collect 10 Wreath Clippings
( 50 Cash)
Collect from 60 Residences
( 90 Cash)
Rewards
Timed Reward
See left
Goal Completion
Description
Look at that beautiful tree! Now, that's what the holidays are all about! I promised myself I wouldn't cry!
Goods Share
 50 Goods

Branching Out
is a timed
goal
in
CityVille
. It was released during the
Holiday Event (2011)
.
Paul says: "My family and I have a lot of holiday traditions and picking out the perfect tree is my favorite one!"
Task 2: Collecting from businesses will have an 18% chance of dropping a Wreath Clipping.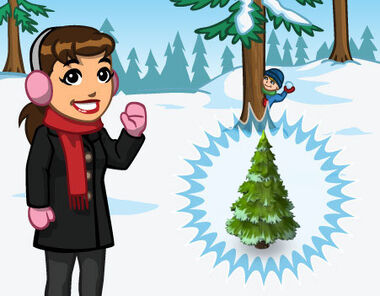 (completed within 48 hours)
(completed in 48-96 hours)
(completed in 96+ hours)
City is branching out to find the Perfect Holiday Tree!


Player spent all day at the holiday tree lot looking for the perfect tree.