Bonus Population (officially called Population Upgrade) increases population of existing residences.
When collecting rents from houses, there's a chance that population truck will drop, provided that your citizens are happy. How this chance is calculated is unknown.
On March 12, 2012 a +20 Population option was added to the Gifts menu.
There are four types of Population Trucks distinguished on the basis of the amount of bonus population each gives.

During Halloween (2011), monster housing dropped purple population trucks. > > > > > > > > > >
From December 22-25, 2011, CityVille increased the chances to earn more Population by 50%.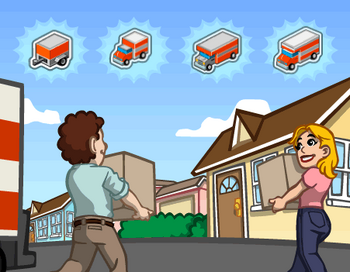 Chances and Amount of Bonus Population
Edit
These are only a few examples. To see the Bonus Population of a specific house, go to that item's page.
Initial Population*/Residences
Bonus Population amount*
 10 - 50 Population
Cozy Cottage, Family Townhouse, Country Home, Suburban House, Loft Apartments
 10 Bonus Population
 60 - 150 Population
Modern Chateau, Terraced Brownstone, Stylish Contemporary, Lake House, Apartment Complex, Apartment Complex, Ranch House, Milan Apartments, Upscale Condos, Tuscan Villa, Colonial Chalet, Spring Bungalow, Hotel Suites, Breezy Cabin, Sprawling Mansion, Timeshare Tower, Boat Driveway House, Courtyard House
 20 Bonus Population
 160 - 300 Population
TV Terrace, Bay Point Duplex, Beachfront Condo, Skyscraper Condos, Aloha Hut, Amazon Abode, Beachside Suites, Big Kahuna Bungalow, Cliff House
 40 Bonus Population
 +310 Population
Glass Condos, Atrium Lofts, Garden Cottage, Midtown Apartments, Parkside Villa, Hacienda, Eco House, Founder's Building, Eco Skyscraper, Cubic Modular, Alcazar Castle, Animal House, Aragon Apartments, Bavarian Castle, Big Summer House, Carousel Cottage, Clown Alley, Contemporary Condo, Corsican Loft, Countryside Home
 60 Bonus Population
Initial Population - Starting population of a residence (lower number in housing menu).
Bonus Population amount - The amount of bonus population you can get upon collecting rent if Happy or Unhappy, but not when Very Sad. % chance of getting bonus is unknown.