Bay Point Duplex
Comments

41
8,510pages on
this wiki
The Bay Point Duplex is a 4x4 sized Housing item that is no longer available in CityVille. It has been removed from the Build Menu as of May 15, 2011.
It cost

 30,000 Coins and

 6 Energy to build. Once built, it increased your city's population by

 230 Population. Rent can be collected every 4 hours and earns

 102 Coins. When collecting rent, this building has a chance to give collectibles towards the Suburbia Collection.
This house can be stored in the following Neighborhoods
 Frostdale Ridge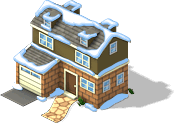 Collecting Rewards
Edit
| Chance | Reward |
| --- | --- |
| 85% |  1 XP |
| 15% |  2 XP |
Cost and Efficiency
Edit
The Bay Point Duplex was originally one of four residences that can be collected every four hours. Compared to the other three residences, it had the second highest population density and produced the second lowest rent every four hours (both the Skyscraper Condos and the Courtyard House produce 105). It was in the middle in terms of cost too, cost much more than the Family Townhouse but significantly less than the Skyscraper Condos.
| Direction SW | Direction SE | Direction NE | Direction NW |
| --- | --- | --- | --- |
| | | | |
Remodeling
Edit
For more information: Remodeling