The Baseball Field is a 6x6 sized community building available in CityVille. It unlocks when the player completes the goal Feed The Fans!. It costs 50,000 coins, 12 energy, and
 8× Marble,

 8× City Seal,

 8× Building Grant,

 8× Gold Plating, and
 8× Ribbon each to build. When completed, your population cap is increased by 1,500. Collecting rent from it earns 250 coins, which is unaffected by payout boosts from decorations.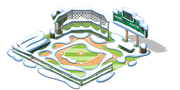 Harvesting Bonuses
Edit
| Chance | Reward |
| --- | --- |
| 100% | 5× 50 Coins |
| Chance | Reward |
| --- | --- |
| 50% |  1 XP |
| 50% |  2 XP |