Baking A Difference
Comments

20
8,527pages on
this wiki
Baking A Difference

Image © Zynga
Goal Information
Requirements
 Level 40
Release Date
December 2, 2011
Description
The key to the perfect cookie is having the right recipe! And I have the recipe for success!
Mission from
Chef Andre
Tasks
Ask friends for 12 Cookie Recipes
( 36 Cash)
Send 25 Tour Buses to Neighboring Bakeries
( 50 Cash)
Check Into 10 Hotels
( 50 Cash)
Rewards
Coins
 20,000 Coins
Energy
 5 Energy
Goal Completion
Description
I talked to Lorenzo and he loves my idea! This is history in the baking!
Questline
Baking A Difference is a goal in CityVille.
Andre says: "I'd love to hold a holiday cookie bake-off to raise money for the less fortunate! 'Tis better to give than receive!"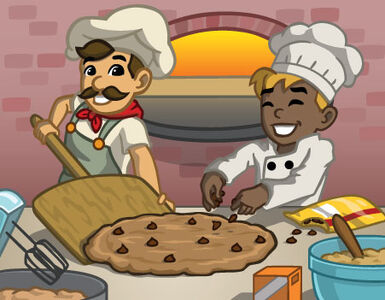 Task 3: Only checking into a Hotel (and upgrades) or Sailboat Hotel (and upgrades) will count toward this task.
City is getting baked at the Cookie Bake-Off!


Player lost the Cookie Bake-Off when they dropped all their cookies on the ground. Afterward they said, "That's the way the cookie crumbles."