The Atrium Lofts is a 5x5 Apartment buildings in CityVille. It was released on January 10, 2011.
It costs

 750,000 Coins to buy and takes

 8 Energy to build. Once built, it increases the city by
 500 Population. Rent can be collected every 24 hours and earns

 220 Coins. When collecting rent, this building has a chance to give collectibles towards the Jet Setter Collection.
This item was part of the
 End Of Summer Blowout Sale, where the price was lowered down to

 600,000 Coins.
This Residence can be stored in the following Neighborhoods: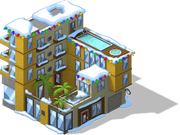 Possible Item Drops
Edit
Collecting Bonuses
Edit
| Chance | Reward |
| --- | --- |
| 85% |  1 XP |
| 15% |  2 XP |
| Direction NW | Direction NE | Direction SW | Direction SE |
| --- | --- | --- | --- |
| | | | |
One of these appear in Samantha´s city
Used to be one of the most expensive and most appealing building in game
Was one of 3 residences that was collected from every 24 hours, in which collecting from it without bonuses would take 3,410 days to get the investment
Ad blocker interference detected!
Wikia is a free-to-use site that makes money from advertising. We have a modified experience for viewers using ad blockers

Wikia is not accessible if you've made further modifications. Remove the custom ad blocker rule(s) and the page will load as expected.