The Apartment Complex is a 4×4 sized Housing item available in CityVille. It unlocks when the player reaches

 Level 15.
It costs

 4,500 Coins to purchase and it takes

 5 Energy to build. Once built, it increases your city's population by

 90 Population. Rent can be collected every 24 hours and earns

 210 Coins. When collecting rent, this building has a chance to give collectibles towards the City Life Collection.
This Apartment can be stored in the following Neighborhoods: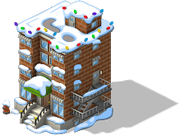 Collecting Rewards
Edit
| Chance | Reward |
| --- | --- |
| 85% |  1 XP |
| 15% |  2 XP |
Efficiency
Edit
In terms of rent per hour, the apartment complex is not great - it only gives you 8.8 coins an hour. Nor does it give you very good coins per hour per citizen housed. However the long one day collection period means that it requires less energy to collect from than other housing, and it is returns a decent amount of coins per energy spent.
There are two other houses with 24 hour collection periods, the Modern Chateau and the Atrium Lofts. Compared to the modern chateau, the apartment complex houses 50% more residents, but yeilds only an extra 10 coins. The atrium lofts hold nearly twice as many residents as the apartment complex and will give you 10 less rent, but it costs a fraction of the atrium lofts cost.
| Direction NW | Direction NE | Direction SW | Direction SE |
| --- | --- | --- | --- |
| | | | |
Remodeling
Edit
For more information: Remodeling