Add A Second Port!
Comments

3
8,557pages on
this wiki
Add A Second Port!

Image © Zynga
Goal Information
Requirements
 Level 20
Release Date
January 13, 2012
Description
I think having two ports for now sounds sufficient. It's better to be safe than sorry!
Mission from
Dan
Tasks
Collect from 40 Businesses
( 40 Cash)
Collect from the Customs Office 6 times
( 30 Cash)
Have 2 City Ports of any level
( 50 Cash)
Rewards
Item
 Duty Free Shopping
Goal Completion
Description
The only bad news is that the tourists have to leave and go back home eventually! Oh well, bon voyage!
Questline
Add A Second Port! is a goal in CityVille.
Dan says: "I'm going to talk to Rusty about all the traffic these extra ships are causing! I think we need a second port!"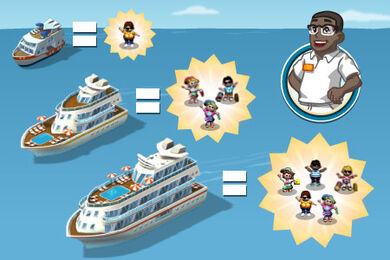 Task 1 Hint: Each tourist consumes 2 goods at a business.
City is running a tight ship and upgrading their City Ports!


Player has learned a lot out on the high seas. Including how to separate the men from the buoys.