This goal has been removed as of October 25, 2011.
A Shore Thing

Image © Zynga
Goal Information
Requirements
 Level 50
Release Date
August 12, 2011
Description
They're going to love taking a stroll down the boardwalk! There are so many cool shops!
Mission from
Dan
Tasks
Collect 10 times from Taffy Shop
( 40 Cash)
Send 20 Tour Buses to a Sun Glasses Store
( 60 Cash)
Request 20 Snorkels
( 120 Cash)
Rewards
Item Unlocked
Coral Reef
Goal Completion
Description
I think the tourists are going to love this beach so much that they're going to refuse to get back on my ship!
Goods Share
 50 Goods
Questline

The A Shore Thing, also known as Cruise Control, is a normal City goal in CityVille.
Dan says: "The tourists on my cruise ship like to have fun off shore and on! So, I'm going to scope out some seaside shenanigans!"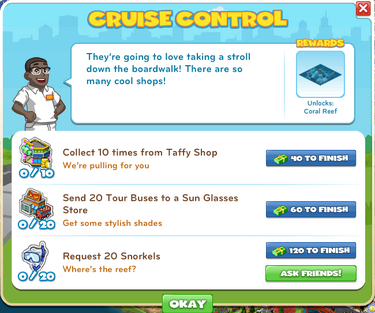 City is fishing for compliments about its new Coral Reef


Player is excited to see all the beautiful sea creatures that live near the Coral Reef. When told this, the sea creatures didn't seem to feel the same way.
Ad blocker interference detected!
Wikia is a free-to-use site that makes money from advertising. We have a modified experience for viewers using ad blockers

Wikia is not accessible if you've made further modifications. Remove the custom ad blocker rule(s) and the page will load as expected.